At Estes Express Lines, a nationwide service network is ensuring the fleet's productivity and efficiency.
With 74 shops and mobile service units and nearly 800 technicians and parts personnel across the U.S., the extensive maintenance operation at Estes Express Lines requires central, regional, district, and local management support.
"Our fleet service program is like a hub and spoke organization," explained Michael Palmer, vice president of fleet services. "There are 68 shops along with mobile units in two regions and eight districts that service nearly everything in-house, including equipment at terminals without shops.
"We try not to outsource more than 10 percent of our service work so all of our vehicles are assigned to a company shop," Palmer continued. "We get better decisions and have lower costs when our shops manage maintenance and breakdowns for our equipment, although when it's a safety issue on the road we don't hesitate to use approved vendors."
One exception to keeping all work in-house at Estes are mounted wheel and retreading programs for tires. In eastern states, Estes uses the services of Snider Fleet Solutions, a Michelin commercial tire dealer and retreader with 80 locations, and in the west it works with Bridgestone and Bandag.
In three of its terminals, Estes is employing and evaluating the drive-through Automated Tyre Safety Check system from UK-based WheelRight Ltd. The tool uses high resolution cameras and pressure-in-motion technology to measure PSI and tread depth. It provides instant alerts by tire position for any measurements below a predetermined threshold, which triggers a work order for follow up.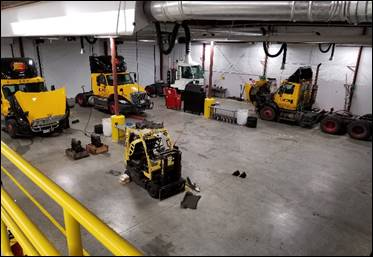 "It's ineffective to do this manually and get accurate information," Palmer said. "We've had one of the WheelRight systems for a year, and two for about six months. While we're still looking at the results, in one location our tire costs have dropped, especially from road calls."
Other diagnostic tools in use across all Estes shops include truck and engine manufacturer and Noregon JPRO software to read fault codes and provide component information. Data from vehicles is fed into the company's TMT Fleet Maintenance management system.
"We've been using TMT software since 1993 so it's an essential part of our shop management processes," Palmer stated. "All work in our shops is managed in the system where we view it in a series of dashboards. We also measure a wide range of things that indicate efficiency and proficiency.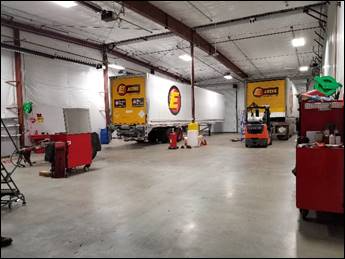 "Every month, we score each shop based on ten or more metrics, including parts costs and repeat repairs, and the number of rentals, which is an indicator of productivity," Palmer related further. "Additionally, measurements of overdue PMs and campaign progress reflect efficiency and can be used to more effectively plan shop workflow.
"Visibility into shop throughput gives us a picture of the amount of time each service activity takes," Palmer added. "That can be tough to manage, especially when you're using SRTs, but with the data in TMT we can measure proficiency and create job codes that follow a vehicle's service and repairs across multiple shifts, shops, and technicians."
That proactive approach, according to Palmer, can also lead to more effective parts purchasing practices.
"Uptime has become more essential," he stated. "While we still purchase a large number of parts for all of our shops centrally using OEM programs, we are shifting to sourcing parts locally to reduce downtime. National pricing within a manufacturer's system gives us both the best prices and faster access to parts through local dealers."
Along with OEMs and their dealer networks, Estes uses the Fleet Charge purchasing program at International Truck dealer locations to source Fleet Rite parts, the Navistar all-makes brand. Additionally, it purchases Alliance Truck Parts, the private label brand that is a division of Daimler Trucks North America.
One other area of focus for Estes is to ensure it has the technicians to achieve its maintenance and shop management objectives.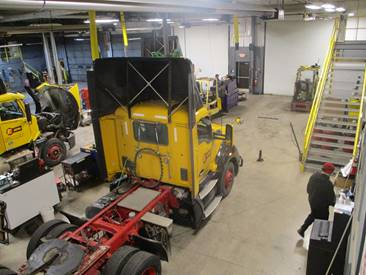 In some locations we don't have an issue, but in certain areas of the country it's difficult to find new technicians," Palmer said. "We have company recruiters who are constantly looking for us, and we work with technical schools to hire graduates because we're confident they have the basic skill sets we need.
"Another program we have is to hire technicians and assign them initially to projects, such as one we call 'Track Attack' that involves servicing load bars in trailers at our loading docks," Palmer continued. "If they do well we can move them into other positions, and this has been a good way to test each other out and grow our maintenance team."
On many fronts, a team building approach across its vast nationwide service network has been very effective for keeping the Estes Express Lines fleet of 7,000 tractors and 30,000 trailers running efficiently and productively.
By Seth Skydel
Source: https://www.fleetmaintenance.com