Too much noise! Not enough noise! It's two sides of the same coin, and some big breakthroughs in audio technology will soon mean significant improvements for both in-car entertainment and noise reduction.
There should also be some handy knock-on effects, with the prospect of reduced weight, improved fuel economy, lower emissions and additional storage space.
The overlapping challenges of better sound and less noise pollution are being led by audio specialists working in harmony with the car industry: Harman's liaising on noise cancellation with Hyundai, while Sennheiser has been collaborating with automotive technology giant Continental.
Active noise cancellation is taking the biggest leap forward. That itself is not new technology, and is already fitted to various luxury cars. But Hyundai, working alongside Harman, has gone one step further. It says current active noise cancellation tends to be most effective in combatting noises that are constant, such as the drone of an engine on a motorway. But the new Road Noise Active Noise Cancellation (or RANC) system is designed to take the war on NVH (noise, vibration, harshness) to the next level. Key to RANC is microphones installed around the car – for instance, close to the wheelarches. The road noise recorded by those microphones is sent to a central processor that calculates the exact opposite soundwave, which it then transmits through the audio system to counter the road noise.
Using microphones in the headlining, the processor can also alter the frequency for each passenger, depending on how the noise presents itself in their part of the car. Humans detect road noise in 0.009sec, but Hyundai's processors are quicker, at 0.002sec, so the system should be able to block out the intrusion before anyone's had a chance to be annoyed by it. Hyundai claims RANC – now being used in its Genesis brand – can reduce road noise by 3dB compared to other cancellation systems, effectively halving road noise.
Elsewhere, Sennheiser and Continental have put their boffins together in a room to figure out an entirely new way of creating sound, this time without speakers.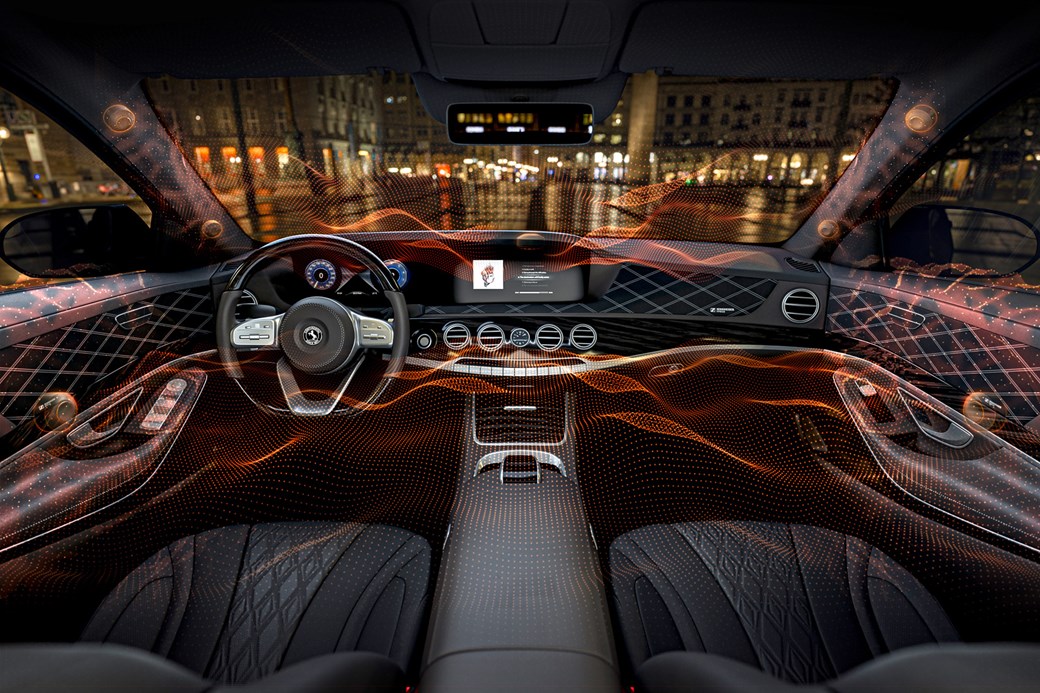 Continental's Ac2ated technology does without conventional speakers, using pulse motors to 'excite' certain surfaces to create sound instead, which is a lot like the way string instruments use open chambers to amplify the noise they make. Algorithms from Sennheiser's 3D AMBEO software make the most of
Continental's actuators, which can be placed on the A-pillar, door trim and roof lining.
'For Ac2ated Sound we have brought together the highest levels of expertise in the areas of acoustics, infotainment and vehicle design,' says Continental's Helmut Matschi. 'In Sennheiser we have found an audio expert who helped us make our pioneering audio system even better.'
'By integrating AMBEO Mobility with Continental's Ac2ated Sound system, the in-car sound experience becomes completely immersive and natural, opening new audio perspectives and realities,' says Dr Andreas Sennheiser, co-CEO of Sennheiser.
Sennheiser says conventional audio systems in modern vehicles can weigh up to 40kg; and that it and Continental's technology reduces that figure by up to 90 per cent. Also, since interior designers wouldn't need to make space for speakers in their cockpits or subwoofers buried in the luggage area, cleaner interior design concepts can be created.
Car makers can also reduce the amount of soundproofing materials in a production car if it uses active noise-cancellation technology, reducing weight and in turn putting less strain on the car's propulsion system.
Who needs headphones?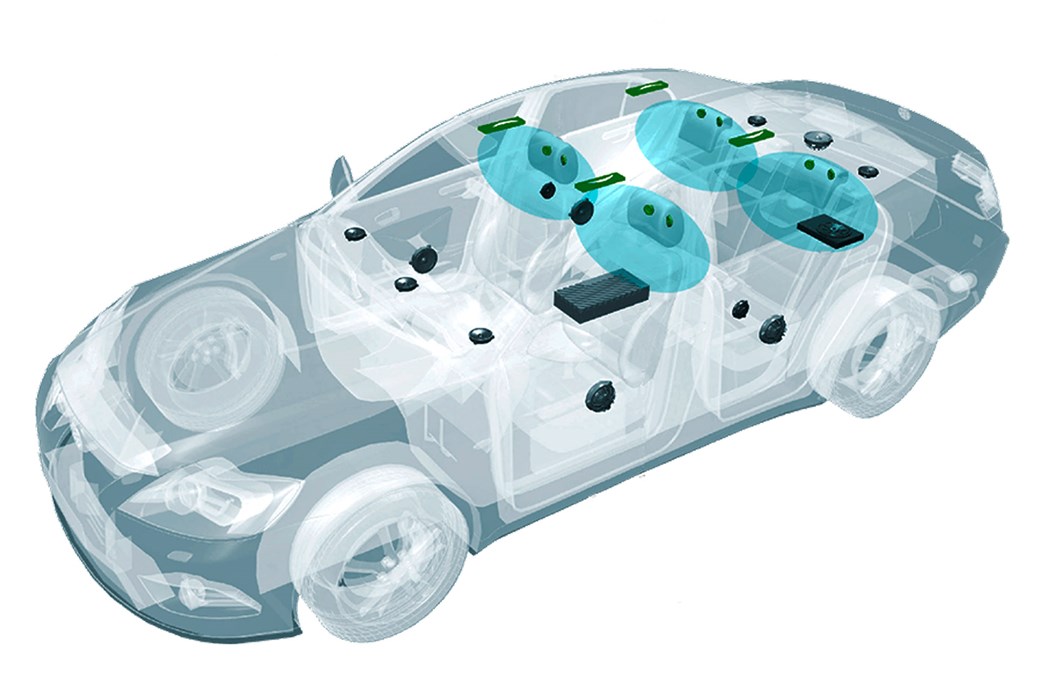 Harman has been experimenting with ways of providing each occupant of a car with their own sound experience, using a collection of precision-targeted mini-speakers rather than headphones.
Called Isolated Sound Zone, this technology-in-progress means a car full of people can chat naturally but can also all independently listen to separate audio – music, talk, or silence – without their choice of sounds spilling out into anybody else's zone. Harman calls this 'cross talk cancellation'.
Harman also claims the tech should enable you to virtually 'pass' a phone call around from one seat to another.
Speaker overload
The trick is more speakers, smaller and highly directional, including some in the roof lining and headrests.
No overlap
Each speaker is quieter, so less chance of hearing your kid play Baby Shark… again.
Focus!
Directional audio means the driver will be the only one privy to audio from the nav system, for example.
The audit is a key tool to know the overall status and provide the analysis, the assessment, the advice, the suggestions and the actions to take in order to cut costs and increase the efficiency and efficacy of the fleet. We propose the following fleet management audit.